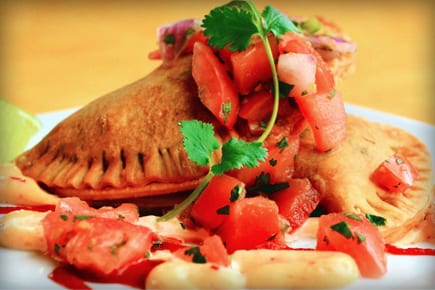 We have to smile when guests ask us if there are any good seafood restaurants on the island. After all, not only are we a sport fishing capital, but also the island's history is all about the fish!  Commercial fishing was, and is, a way of life for many, many islanders and their families. The lives and stories of the watermen are a rich part of our culture here.
But back to the original question about where to go for seafood when on vacation. Here are some things we tell our guests to help them locate the restaurant that will serve the food they want at the right price point. Truly, on Hatteras Island, the restaurants all serve good seafood.  It's what they do. So it really is a matter of what you are looking for. Is it a special occasion?  There are a few white table cloth restaurants with bars and wine lists that are perfect for a birthday, anniversary, proposal, or any other special event.
Are you interested in a sunset?  While we do not have oceanfront dining on the island, soundside choices are plentiful and every sunset is beautiful in its own way. Are you traveling with small children? Several restaurants have kid-friendly menus and early dining allows families to get in and out quickly before the later crowds settle in.  Do you want to eat where the locals eat? Some of our year-round establishments are favorites with those of us who do enjoy eating out on the off-season. Do you yearn for fried fish, French fries, hush puppies and slaw? There are places that cater to real down home southern cooking without frills.
Some places are experimenting a bit more with their menus and offer seafood with global twists and fusion cuisines.  Always ask for the fresh, local catch. Shrimp and scallops are usually plentiful and softshell crabs in season are awesome. Oysters from our waters are usually harvested in the cooler months but can be enjoyed at other times of the year and they are wonderful. From light and flaky flounder to more hearty blue fish or meaty tuna, there all sorts of fish to try. Be bold and taste something you haven't tried before. Fresh fish are amazingly flavorful and healthy and with all the preparations that local chefs utilize, you can enjoy something different all the time.
And of course we do realize that many people do not enjoy seafood or have allergies, so rest assured there are plenty of meat choices, increasing vegetarian, vegan and gluten free options, to-die-for pizza places, and many, many restaurants serve homemade desserts.
One thing is for certain, you will not go hungry here on Hatteras Island. Bon apetit!
Photo from Rusty's Surf & Turf
Locate Restaurants & Specials from Corolla to Hatteras on the Restaurant page of Outer Banks Events Calendar.