August 4, 2017  5 p.m.
Weeks Marine pumped sand steadily this morning and shut down operations just before 3 p.m. due to rising sea conditions.
With the dredge shut down, Weeks Marine's beach crew plans to disconnect the pipes in front of the Cape Hatteras Motel and grade the newly nourished beach and open it to the public.  When sea conditions subside, work will proceed a short distance to the north of the current landing point to complete the section between the previous landing point and the current landing point to the full design volume.  Once that section of beach is completed, pumping will resume south.
As work resumes south through the village of Buxton, remember to use caution, stay out of marked-off work zones, and adhere to instructions and signs posted by construction crews on site.  Please keep in mind that schedules and plans are subject to change.
The next update will be issued when work resumes.
[stop by our office to get your 'soon to be collector item' T-shirts].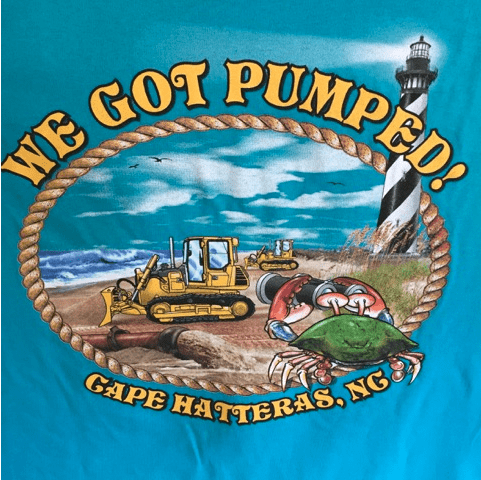 Cape Hatteras Motel recently topped 11,020 fans on Facebook!
https://www.capehatterasmotel.com/wp-content/uploads/2017/03/MoreBeachtoLove.jpg
1241
1832
Cape Hatteras Motel
https://www.capehatterasmotel.com/wp-content/uploads/2015/06/cape-hatteras-motel-logo-full.png
Cape Hatteras Motel
2017-08-04 16:55:29
2017-08-04 16:55:29
Buxton Beach Nourishment Update – August 4, 2017