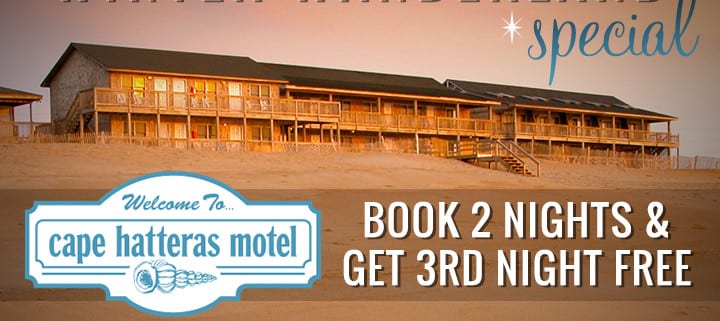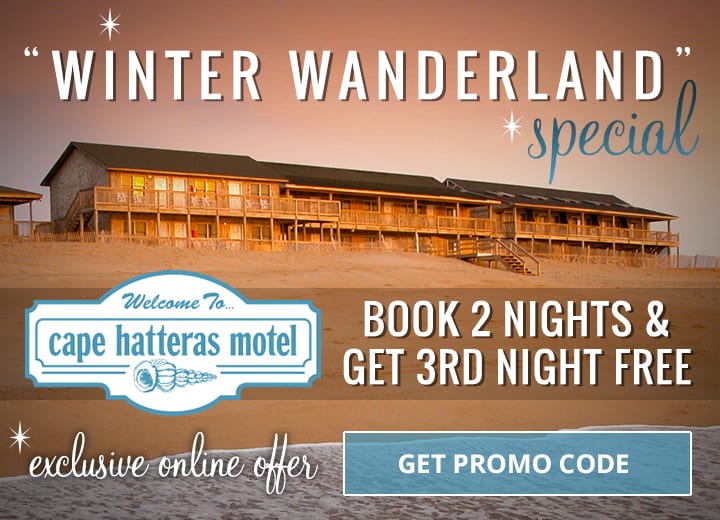 Book two nights with our Winter Wanderland* Package, get your third night FREE
*Exclusive Offer – Only Good by Booking on our website using the PROMO Code Revealed Only when Liking this page.
The Outer Banks in winter is truly unique! It's quieter. It's calmer. It's a bit wilder. There's more room for romance and adventure. Wander along empty beaches in the company of only your footprints, migrating birds and dolphin pods celebrating the season offshore. Winter sunrises and sunsets light up the skies with vibrant colors generating more "oohs and aahs." You can wander through the island's villages and learn more about their unique characteristics. Wander around Pea Island and enjoy what nature serves up this time of year during the migratory peak. It truly is a wanderland that gives you Hatteras through new eyes. Take advantage of this Special Offer and begin planning your Winter Wanderland stay with Cape Hatteras Motel today.
*Terms & Conditions: Offer expires March 15, 2016. This offer is not to be combined with any other offer and is good on new reservations only. Deposit is required at time of booking. PROMO code only revealed when liking this page. If booking more than 3 nights, please call.
To see the full content & PROMO CODE, please share this page by clicking one of the buttons below
Sign Up to Receive Specials
&

News